Friday Prayers
Published on February 8, 2018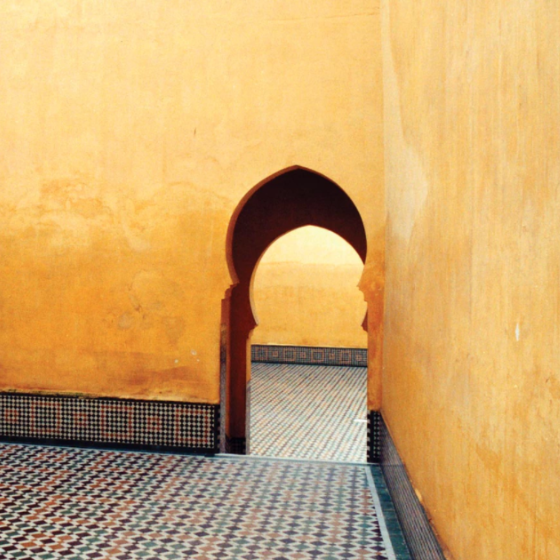 A small concrete mosque resides in the center of a residential area. Light brown, cracking paint wraps its simple geometric walls. One minaret stands erect on the southern corner, silently heaving toward the sky. The megaphone at the top of the minaret, with jumbled loose wiring connecting it to the inside, is shaving away paint, scaving away volume.
A man from a neighboring street jogs to the mosque. He stares down at the pavement while his feet penguin-stroll in. His long white, garmented dishdasha hangs loosely down, castrated at the top of his ankles. With a black coarse beard, he funnels his fingers down to the edge, every other second.
He enters the mosque compound before going to the rectangular bathroom to perform wudu -- ablution, where he robotically drenches and systemically cleanses the face, beard, ears, fingers and palms, wrists and elbows, and toes and ankles. Sandals, initially left outside, are then reworn -- and immediately taken off -- to enter the main wide mosque doors, where carpet arabesques paint the floor and equal amounts of Arabic calligraphy surreally encapsulate the walls, spiritually caving out a tightly woven meditation.
He goes to the microphone -- attached by the loose wires through the outside to the megaphone at the top of the minaret -- and starts summoning by call of prayer, in a broken Arabic, monotone of an accent. Hypnotically summoning Muslims to come, congregate and beseech in a physical and emotional orchestration of prayer.
One by one, male believers zombie in. A rich Kuwaiti parks his car diagonally, paying little attention to painted lanes, government regulations. An East Indian bikes in and gently lays it against the outer mosque walls, without worrying to lock it. An Indonesian paces in and patiently hurls his sandals in front of the main doors, where a mountainous pile of foot leather accrues, patriarchally.  
When the Egyptian Imam takes up and center [like a title of a paper], he starts to pray, and the disciples behind follow in synched rows. All popularly witnessed during the day of al-jum'a gathering: Friday. Believers stand up, hand gesture out, murmur in quiet verses, before descending in unison to the floor, portraying a mantra of movement and whispers.
Submitting.
Dispensing egos.
To God.
.Allah.